UGV-UAV Hybrid System for Unstructured Environment Exploration
---
Abstract:
Details
Organization: NASA
Award #: Seed RID Grant
Amount: 83,523
Date: Sept. 1, 2016 - Aug. 31, 2017
PI: Dr. Hung La
Co-PI: Dr. David Feil-Seifer
Paul Oh

Supported Publications
Supported Projects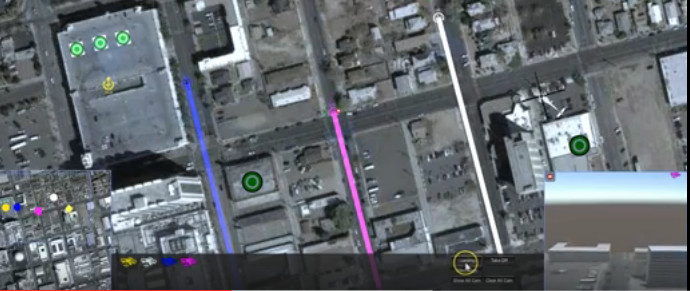 We are developing a disaster mitigation training simulator for emergency management personnel to develop skills tasking multi-UAV swarms for overwatch or delivery tasks. This simulator shows the City of Reno after a simulated earthquake and allows an operator to fly a simulated UAV swarm through this disaster zone to accomplish tasks to help mitigate the effects of the scenario. We are using this simulator to evaluate user interface design and to help train emergency management personnel in effective UAV operation.